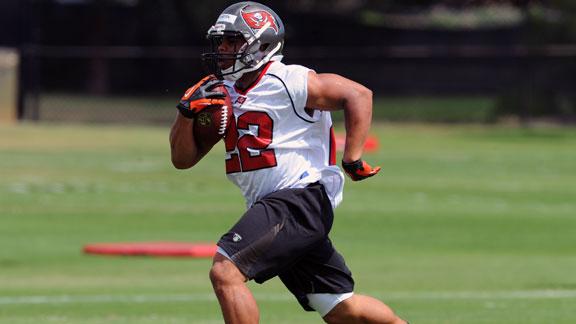 My how times have changed for Doug Martin since I wrote about him last year. At that time in the fantasy football world, people scoffed at the notion of a 1st round running back in Tampa Bay having success with the likes of LeGarrette Blount roaming in the backfield. Today, Doug Martin has gone from a nearly unwanted, barely draftable in fantasy leagues or a doubtful start, to a top 5 fantasy football pick. In fact, he is leading most Tier2 groups for running back; with some even placing him into the top tier, now with Jamaal Charles's injury.
Doug Martin showed last year how to get things done in the NFL as a rookie running back. Nearly reaching 2000 all-purpose yards, he amassed 1454 on the ground, with an average of 4.6 yards a carry, along with 11 touchdowns, thank you very much!
And for all you points per reception aficionados, let's not overlook his 49 receptions for 470+ yards and a touchdown.
I made the mistake of calling him a good third down back last season, yet his stats show otherwise...he's a GREAT first down back! 189 times last season, he rushed for over 6 yards on first down, with 3 touchdowns. And in the second half, he was real money, hammering out 820 yards on the ground, with 8 touchdowns, to go with his fantasy football niceness of 27 catches for 290 yards and a touchdown.
So, where are his faults? First, he is coming into his sophomore year...which means we have no NFL stats to check out trends. The only trend I can see, is, apart from the week 15 loss to the Saints last year, he dominates his NFC South opponents. Next, the AFC South and the NFC South fixate on rushers who have had one good season...which is especially a problem with Tampa Bay, who can't seem to keep the backfield at 100% for any year that I can remember.
Is he a top 5 running back in fantasy football?
The simple answer is yes. I know I'm a stickler for previous experience to formulate and view trends, but this guy, this 'Muscle Hamster' as he is better known, just flat out runs. He's strong on the left side, and just as potent in the middle. He can also break out a catch in the backfield for positive yardage on a constant basis. These two facts, alone, make him valuable in normal redrafts and PPR leagues.
That's my look back at 'sleeper' pick from last season Doug Martin...who now is no where close to that, and if you are lucky to get him, then congrats to you, my friend!
Do you have a sleeper pick this season that you want us to review? Or, would you like to write your own thoughts about him? Comment or send me a message at thefantasyfootballtoolkit@gmail.com and I'll get you hooked up on your fantasy football needs!